Traditional and elegant living

Rooms and suites
The Waidringer Hof hotel in the Pillerseetal valley is an elegant and traditional Tyrolean hotel. Whether a guest is accompanied by another person, a group of friends or his entire family, he will feel at home in the cosy and individualised double rooms and the lavish, comfortable suites.
The feel-good programme begins with the 62 rooms and suites in Tyrol, which cater to a variety of tastes. The collection of quarters includes the straight rooms, which are compatible with the metropolitan atmosphere as well as the alpine lifestyle. The country-style happiness.feeling studios radiate a comprehensive sense of snugness. The furniture is made of Swiss pine, and is conducive to deep sleep and positive health-related effects.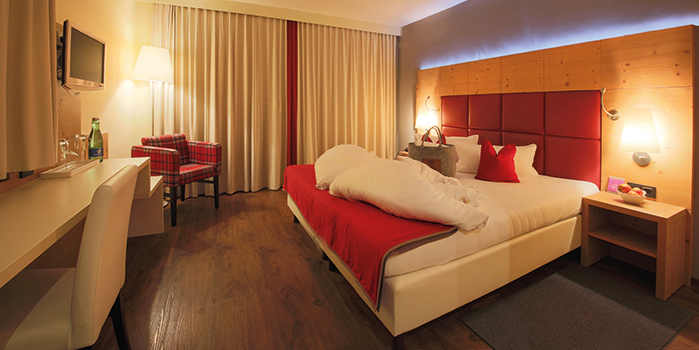 Comfort Double Room · glücks.pilz
Room size: 26 m²
Renovated double room in modern Tyrolean style with natural materials and intense colors, carpeted floor or parquet floor, bathroom with tub, balcony, cable TV, room safe, minibar, telephone, bathrobe and hairdryer
Room request
Book a room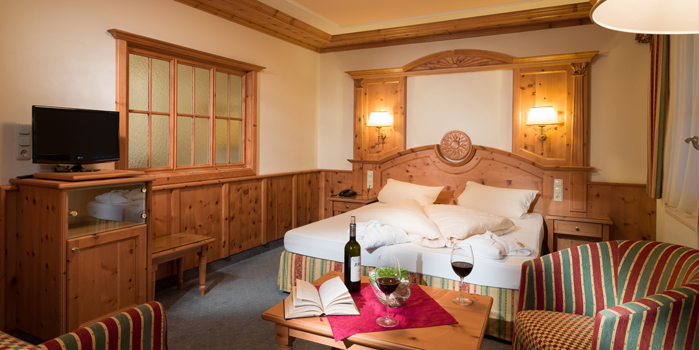 Deluxe Double Room
Room size: 33 m²
These rooms have a balcony with panoramic mountain views, a flat-screen TV with cable channels, and the bathrooms have a bathtub and shower.  This room is in the the adjacent building which can be reached via a connecting 15-metre corridor from the main building.
The maximum capacity in this room is for 2 adults and 2 children. The children sleep on a sofa bed. Free WiFi is available in all rooms.
Room request
Book a room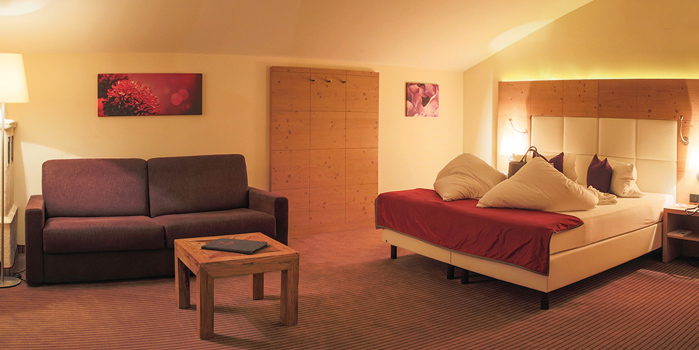 Deluxe Double Room gipfel.glück
Room size: 31 m²
Spacious penthouse double room with double sofa bed (1.30mx2m), modern Tyrolean style with natural materials and intense colors, bathroom with bathtub, private balcony, cable TV, room safe, telephone, bathrobe and hairdryer
Room request
Book a room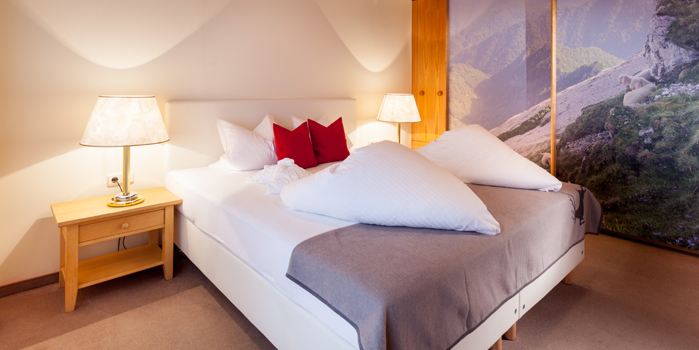 Juniorsuite alpen.glück
Wohnkomfort auf ca. 44 m² – Juniorsuite im Tiroler Stil mit dem gewissen Etwas: Zählen Sie beim Einschlafen die Schäfchen am Kleiderschrank und entspannen Sie im Wohnzimmer mit uriger Holzdecke und gemütlichem Doppelschlafsofa (1,60mx2m), Blick vom privatem Balkon auf die Waidringer Steinplatte, 2 Bäder mit Dusche/WC bzw. Badewanne/WC, Teppichboden, Kabel-TV, Zimmersafe, Telefon, Espressomaschine, Bademantel und Föhn, diese Juniorsuite bietet Platz für zwei Erwachsene plus zwei Kinder
Room request
Book a room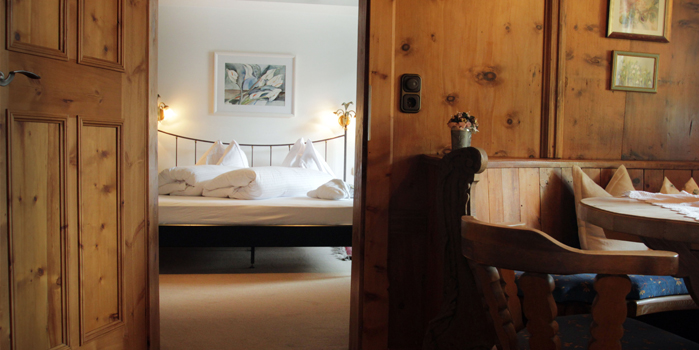 Juniorsuite Heimat.glück
Room size:
44 m²
Junior Suite with living room and seating area, bathroom with tub and toilet, terrace to the south side, wooden and carpet floors, cable TV, room safe, telephone, espresso machine, bathrobe and hairdryer, this junior suite has space for two adults plus a child on an extra bed
Room request
Book a room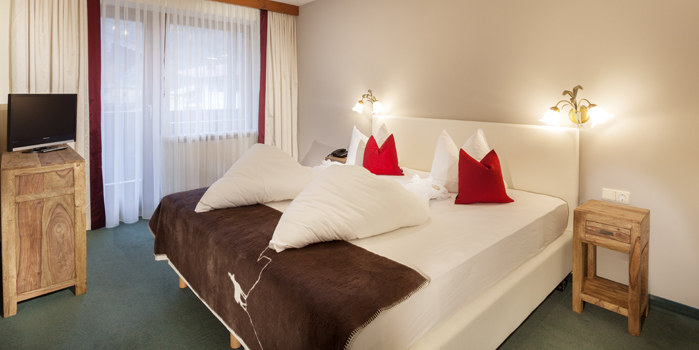 Juniorsuite glücks.zeit
Room size:
44 m²
Juniorsuite in rustic-modern style with separate living area, double sofa bed (1,60mx2m), bathroom with bathtub, separate toilet, balcony, cable TV, room safe, telephone, Espresso machine, bathrobe and hairdryer, this junior suite has space for two adults plus two children on a double sofa bed
Room request
Book a room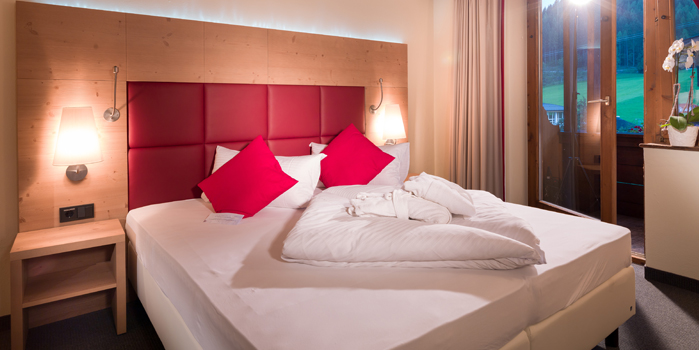 Juniorsuite glücks.kind
Room size:
40 m²
Juniorsuite in modern Tyrolean style, a small children's room with 2 single beds, bathroom with bath and toilet, private balcony, cable TV, room safe , telephone, Espresso machine, bathrobe and hairdryer, this junorsuite accommodates two adults plus two children
Room request
Book a room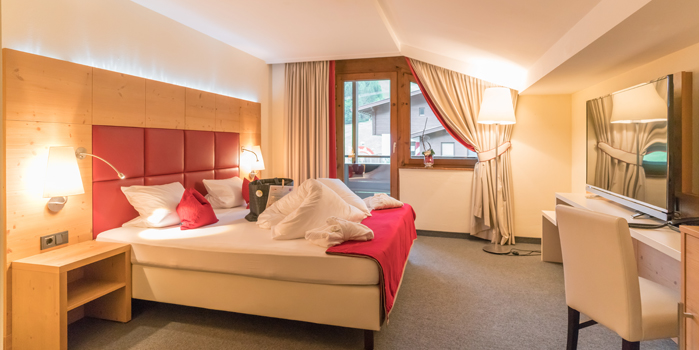 Suite familien.glueck
Room size:
63 m²
Suite in a modern style with a living room and a tiled stove, 2 bedrooms, bathroom with tub and toilet, private balcony, carpet and wooden floor, cable TV, room safe, telephone, espresso machine, bathrobe and hairdryer, this suite accommodates two adults plus three children (third child on an extra bed)
Room request
Book a room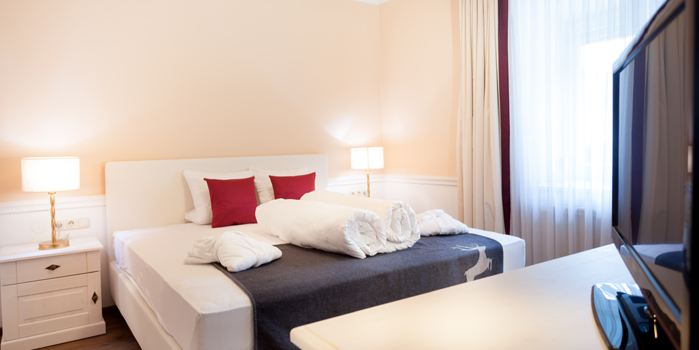 Suite riesen.glueck
Room size:
87 m²
Suite in a rustic-modern style with a separate living area and living area, 2 bedrooms, bathroom with bathtub, bidet and toilet, south-facing terrace, carpet and wooden floor, cable TV, room safe, telephone, espresso machine, bathrobe and hairdryer, this suite can accommodate two adults plus three children (third child on an extra bed)
Room request
Book a room